Carine Cats Softball
As the end of the season approaches, you might be thinking about and making plans for next season. We're hoping you might think about Little League Softball.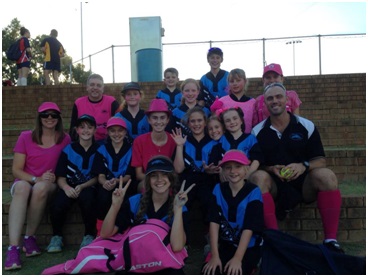 Did you know:
Softball is not just for girls, but boys can also play.
Softball is not just for skilled players – there are teams for all levels of ability.
Little League Softball has three age groups – U11, U13 and U15. This year there were only 4 teams (and not enough players for U11's), so U13's started the season playing machine pitch and progressed to pitching in the second half of the season. Hopefully next year we can get enough players to have some U11 teams.
Softball is not just for older girls – this season, there were players as young as 7 and they were all able to hit the ball and play.
Little League softball is played at 5.00pm on Friday nights at the State Softball Centre in Mirrabooka. Games go for 1.5 hours. Please feel free to come down and watch us play this Friday or next and see how the game is played and how much fun the kids have (there is no fee to come and watch, andPremier League is on right after Little League). With Friday night games, you can still play teeball on Saturdays.
Softball can also be played over Winter – it is called Winter Ball. Carine Cats are currently looking for players of all ages (adults too, so if you are interested, contact the softball registrar or check the website for more information).
Coaches are available and would love to come to one of your team's final training sessions (during, before or after – whatever will suit your team best) and let kids have a go at hitting with the machine. For most kids they are worried that they won't be able to hit the ball and get embarrassed – most surprise themselves! If you would like to arrange something, please call Ryan (0439 813 674).
We will also be around after the closing ceremony if you'd like to come and try or watch some of our littler kids in action.
Carine Cats – 2014-15 All Star League champions
LITTLE LEAGUE ALL STARS TAKE THE FLAG
Massive day down at the BOOKA today with the culmination of the 2015 ALLSTARS little league championship.
The cats started really well with a mercy win over the Fremantle rebels, which put us straight into the gold medal playoff…
The CATS took on the Cougars, a south of the river team from Cockburn, and our little Aussie grinder lead us off pitching a blinder, and along with Ashlee, held the Cougars to 2 runs for the game.
Some nice hits from Amber, Sienna, and Izzy, helped the girls to another Mercy win, and the gold medal…
The girls were just miles ahead of the other clubs due mostly to our Super coach Donna Titheradge, whose knowledge of the game is a step above the rest..
So congratulations to our CATS…
Inaugural little league CHAMPIONS 2015…