Softball Australia, in collaboration with Member States and Territories, have recently developed a National Participation Plan for the next three years with a clear purpose to arrest the decline and grow junior membership in Australian softball.

We're asking for your assistance in completing the survey as well as sharing amongst your members in your own Clubs and Associations.

The information you and your communities provide as a member of softball in 2020/21 will significantly influence the direction that grassroots softball takes to address the decline in membership that has occurred over the past two decades.

Through our partners at SONIQ we are pleased to offer every responder to the survey the chance to win a 55" SONIQ Smart TV upon completion of this survey, just enter your email address at the end to enter the draw.

The survey can be completed by clicking 'Start Survey' below.

Feel free to pass this email on to your Club and Association peers, or provide the direct link to your community via social media channels, the direct link is available here: https://www.surveymonkey.com/r/2021softballmembersurvey.

Thanks for your support and we look forward to seeing you at a diamond soon!
PSL Summer – U12 Expressions of Interest
PSL Summer – U12 Expressions of Interest
Softball WA is looking to welcome back U12's to the Junior Pathway.  This age group is vital to growing participation at grass roots.  The skill level, game sense, and fundamentals of softball is imperative for our future ball players to reach their full potential and aspire to represent WA from U14's and upwards.
Invitation to eligible T-ball players
Softball Division
Invitation to eligible T-ball players to join
Carine Junior Softball Teams
Come and have a run with the Junior players at Softball Pre Season  to experience what junior softball is all about with our senior coaches and players in the Softball Division.
Pre season sessions will be held on Saturday 15, 22, 29 August and 5 September 2020 from 2pm to 3.30pm at softball's satellite ground, Birralee Oval, cnr Shaw Avenue and Beatrice Street, Innaloo
Carine U14 Teams play on Friday night as a 'curtain raiser' to the Premier League Games at 7pm.  This also lets you play T-ball on Saturdays , if you are still eligible.
Ages for U14, U16 and U18 – players are to be under the relevant age group as at 31 December in the season they will be playing.  ie  U14 is players 13 years of age and younger.  U16 is players 15 years and younger, etc.
Please contact Registrar, Cheryl Poustie, on 0412 883 194 or Softball Chairperson, Kerry Rispoli on 0408 484 662 if you will be able to join us at Birralee, or would like any additional information.
You can register for softball online via www.carinecats.com.au and clicking on Softball.
See you on the Diamond soon
Tabitha Rewell in the U16 International Friendship Series
Delighted to advise ex Cats tee baller now softball Tabitha Rewell has been selected in the U16 Australian team
Carine Cats players in the WBSC U18 Women's World Cup
Congratulations to the following Carine Cats players who have made the squad:
Ashlee Harwood
Olivia Kuzminski
Softball Australia are pleased to announce the U18 Women's team to compete at the upcoming WBSC U18 Women's World Cup to be held in Lima, Peru from 23 – 30 August, 2020.
The team has been selected following the U18 Women's National Championship held at Blacktown International Sportspark earlier in January.
A number of players have been listed as reserves and will be invited to compete in the Canada Cup as part of the Aussie Diamonds Pathway Program.
Newly appointed Junior Spirit Head Coach Chantelle 'CJ' James will lead the team and be joined by a host of qualified support staff ahead of the World Cup.
James and her staff will aim to steer the Junior Spirit to a sixth medal in international competition to add to Australia's swag of five bronze medals.
A training camp is scheduled to take place at the Australian Institute of Sport from 14-16 February.
The final team, with reserve list, is listed below:
Final Team
Neve Adams SA
Ryleigh Arnott NSW
Brooke Clappinson WA
Mackayla Denney WA
Amelia Fidge SA
Amaya Foxover Qld
Mia Gilmore NSW
Ashlee Harwood WA
Jessie Keech SA
Hirari Kurihara Qld
Olivia Kuzminski WA
Stephanie Lowe Qld
Aislinn Morris WA
Charli Orsini NSW
Jessica Rohde Qld
Karah Schultz SA
Reserves
Zali Adams SA
Madi Baker NSW
Indigo Beck De Silva SA
Alyssa Charter-Smith NSW*
Jayde Jensen NSW
Sophie Lawrence Qld
Isabella Lorenzo NSW
Alyssa Mighell NSW
Aroha Munroe SA
Mackenzie Peebles Qld
Paige Smith WA
Zali Summers Qld
Willow Swinbourn WA
Caitlin Wilde NSW
*Alyssa represented Softball Victoria at the 2020 U18 Women's National Championship
"FLAMES" West Australian Open Womens Carine Cats Representatives
How exciting!
Get down and support our senior players representing WA in the Gilleys Shield at Mirrabooka, January 2020
Liv Kuzminski Sara Riou and Gemma Hooker
We are also reclaiming Amber Johnson, Amber arrived in WA as an import from the USA 2010
Once a Catter always a Catter, wishing you every success ladies
Junior Pre-Season Training
Starting early September. Please see the attached flyer for more information.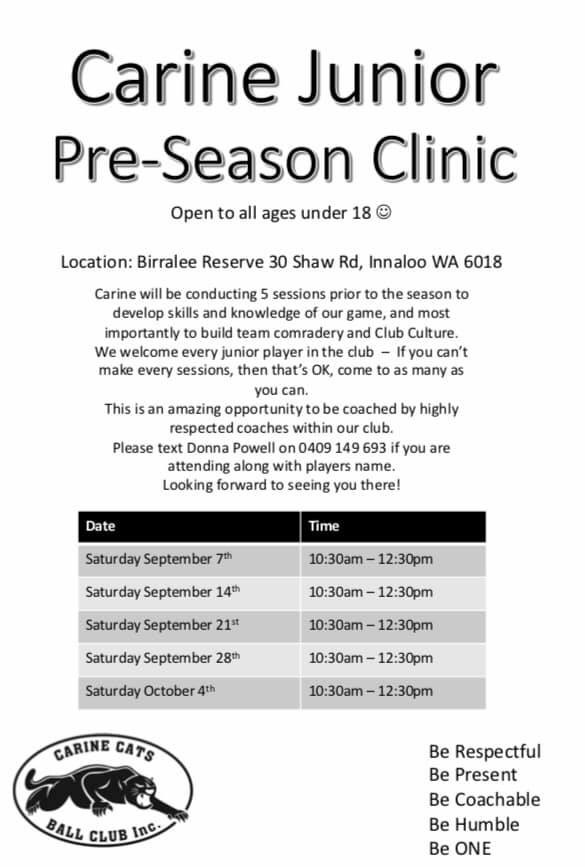 SEASON 2020/21
Hi everyone and welcome back to softball for the coming season.
Registration for the upcoming softball season is to be completed online.  To access the portal for registration is via https://softball.carinecats.com.au/register/
Fee payment by credit card will need to be done at the same time.
Kidsport is available for registration fees only.  Those players who wish to pay by cash/cheque, set up a payment plan or who require adjusted fees (i.e.FIFO workers) are to contact Cheryl Poustie, Softball Registrar directly on 0412 883 194 or 9447 4914 or by email softballregistrar@carinecats.com.au directly regarding payment of fees.
You can still register and update your details on line and an initial payment of $60 will need to be paid to confirm your place in a team.
There will be NO Public Registration Day this year.  If you experience issues with online registration please contact Registrar (Cheryl Poustie) by email or on 0412 883 194 or on 9447 4914 from August 2019 onwards.
Fees for the 2019/2020 Summer Competition are:
Juniors – U14's – $165
Juniors – U16's & U18's – $200
Seniors (18 years and over) – $295
Premier League only – $320
Summer competition and Premier League – $395
Your fees include individual registration, public liability insurance and limited player injury insurance with Softball WA, equipment, junior uniform playing top (junior teams only),  ground and team fees and end of season trophies.  At the time of writing Softball WA are unable to advise of any increase in player insurance or team fees.
For players wishing to play in both a senior and junior team there will be a levy payable for the second team.
For junior players wishing to play seniors only the senior fee will apply. Please advise Kerry Rispoli or Cheryl Poustie in writing of this request.  Juniors playing across a junior and senior team will be advised of the levy for the senior team once they have been allocated to a senior team.
The Club no longer covers plate umpiring costs and the onus falls back on the teams to take up a small collection from the players.  Each team to appoint their own base umpires, PSL umpires pool endeavors to cover all senior plates. Junior teams unable to cover plates Hank is happy to cover – $40 per plate, pending on the fixtures and the amount of teams in each age group Hank will try to cover as many plates on the clubs behalf.
COACHES
All persons aspiring to coach a team from 14's to Seniors this season are to provide, in writing, an "Expression of Interest" to coach to Kerry Rispoli or Cheryl Poustie outlining qualification, previous teams coached and possible grades interested in coaching this season.  "Expressions of Interest" will be referred to both the Grading Committee and Softball Committee for consideration and ratification.
Any coaches wishing to assist with pre-season please contact either Donna Powell, Kerry Rispoli or Cheryl Poustie
PLATE UMPIRE POOL
PSL (Perth Softball League) have asked for plate umpires for the umpires pool, if you are new to softball umpiring but would like to be a part of this plate umpires receive $40 per game, excellent training is available. softballchairperson@carinecats.com.au 0408484662
KIDSPORT initiative funded by Department of Sport & Recreation makes it possible for WA children to participate in community sport and recreation.  KidSport will allow eligible youth 5 – 18 years to apply for financial assistance (to a maximum of $200 per annum) to contribute towards Club fees .  The fees go directly to the registered KidSport Club participating in the project through their local government.  Application voucher can be found online under KidSport website or contact either Kerry Rispoli or Registrar Cheryl Poustie.
A reminder for players, parents and guardians (of players under the age of 18 years) to tick the box on the registration form regarding Image Consent before you can move forward..
PRE-SEASON GRADING/TRAINING
Pre-season training and grading is COMPULSORY for Juniors and dates are as follows:
As Winter Softball play games at Birralee on Sundays the following dates have been set aside for pre-season training.  Team Nominations for the summer season are to be lodged by early September 2019. Additional training sessions will be advised later.
JUNIORS:  For U14's, U16's and U18 players – 3 sessions on Saturday 17, 24 and 31 August 2019 from 11.30am to 12.300pm at Birralee Upper Oval (cnr Beatrice Street and Shaw Road, Innaloo).  Extra sessions if required will be advised at a later date and will depend on ground availability.
SENIORS (other than Premier League Players):   Possible pre-season training/meeting to discuss teams would be Sunday 25 August 2019 at Birralee at 10am – 12 noon. 
If you are unable to attend please advise Registrar, Cheryl Poustie, 0412 883 194, 9447 4914 or Kerry Rispoli on 9448 4662, 0408 484 662.
Please wear appropriate sportswear (especially if cold and wet) and bring a water bottle, hat, jacket and your GLOVE.
Any grading requests are to be in writing to Softballregistrar@carinecats.com.au and will be referred to the Grading Committee for consideration and will be dependent on individual circumstances.
 ALLOCATION EVENING – TUESDAY 10 SEPTEMBER 2019
At Carine satellite ground – Birralee, Upper Oval, cnr Beatrice Street & Shaw Road, Innaloo
JUNIORS:       6.30pm sharp                           SENIORS:       7.30pm
 No uniform pieces will be sold on this night.  Uniform Day for purchase of uniform pieces will be Saturday 5 October 2019 at Birralee, 10:00am to 12.30pm and on training nights up to the season start.
 ORIENTATION EVENING – for coaches, managers, scorers
Tuesday 17 September 2019 at 7.30pm at Birralee, Upper Oval, cnr Beatrice Street & Shaw Road, Innaloo.  Coaches, managers and scorers are requested to attend so that specific information on the upcoming season can be distributed and explained.
Specialised sessions in pitching, catching will be announced in due course.  Scoring Clinic will also be scheduled prior to season commencement for new scorers and those wishing to brush up on their skills, unless Softball WA runs a clinic before the season commences.  Please advise either Kerry Rispoli or Cheryl Poustie if you are interested in these courses
PREMIER LEAGUE PLAYERS
This season players aspiring to play Premier League are to provide, in writing, an "Expression of Interest" to this affect.  A compulsory Premier League pre-season grading session will be organized to which all players wishing to play Premier League are to attend.  The time date and place for this session will be advised at a later date.
TRAINING GROUNDS
Training grounds will be at Birralee Oval and teams allocated on a 'first come' basis.
Carine Open Space will still be available for teams to train – will need to liase with T-ball regarding availability.  The Club would prefer more utilization of our satellite ground Birralee.  Training grounds under lights at Carine Open Space are expensive, it was noted that these timeslots were booked but not used very much.
SOFTBALL FUNDRAISING
As part of our fundraising activities, softball man the canteen for t-ball each Saturday morning.  We have tried a roster arrangement in the past whereby each team provides a person to assist with canteen duties but this has proved unsuccessful. Subsequently, each team will be required to pay a $100 'Canteen levy' so that the Softball Committee can pay people to take on this task.  More information will be provided to teams in due course.
SUPPORT CREW
The Softball Committee would welcome new members to join a core group of hardworking people and the 'more hands helping out the lighter the load'.  We would welcome your support and input to the Committee.  The Softball Committee meets on the second Monday of the month at 7.30pm.
UNIFORMS
Lycra skins (socks) $20.00 sizes 2-8 or 7-11
Cap $20.00
Visor $15.00
Club Beanies Acrylic $15.00 Ribbed style $17.50
Shorts $40.00
Singlets $50.00
Hoodies $50.00 personalising additional $10.00
Optional Club Hoodies – Pullover or zip in black or powder blue with embroidered club logo.
Mens and Ladies cut – Supporters Shirts $45.00
Supporters Jackets $55.00
Mens & Ladies cut supporter or training shirts Grey: Black or Sky Blue $25.00
Club Wind breaker (showerproof) jackets $65.00.
Kitten Club tee shirts available sizes 6 months to 12 years – buy one for your teddy mascot or better still for your little ones $15.00
Club Playing Shorts and Club singlet may be purchased if the consensus of the team to wear shorts and singlet rather than the Club provided uniform.
Uniform pieces can be ordered at pre-season training sessions; sales and orders on Allocation Night also available.
Any uniform queries please contact Kerry Rispoli on 9448 4662 or 0408 484 662
More Congratulations
Open Women's team selections
Allanah Alvarado
Shannon Hearne
McKenzie Giles-Martin
Sara Riou
Looking forward to seeing you at Mirrabooka, 6 -12 January 2018
Our National Schoolgirl Representatives
CONGRATULATIONS
Very exciting time for Carine Cats Ball Club Inc, five Cats players selected to represent WA in the National Schoolgirls Carnival played in Adelaide SA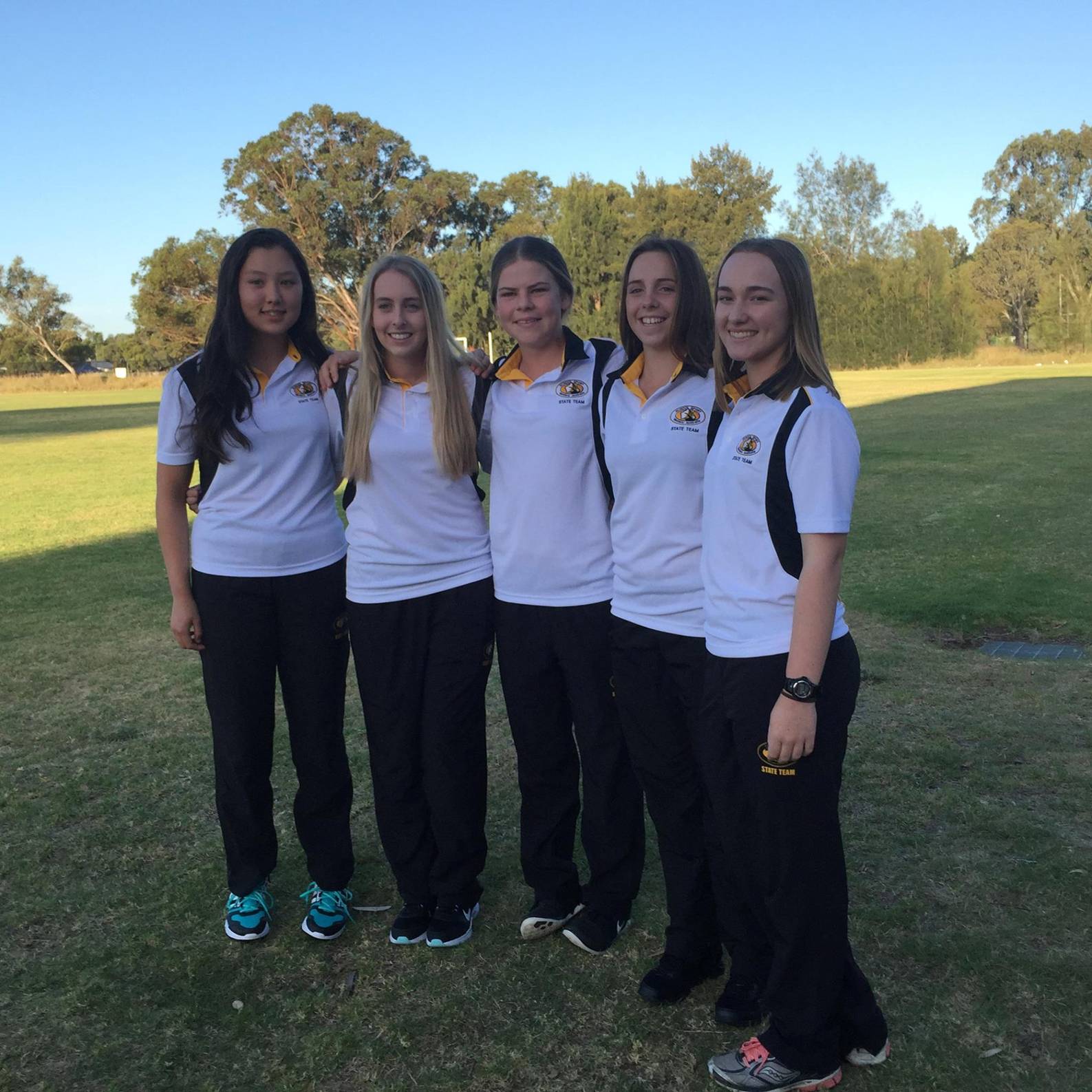 Left to right Amii Lamm: Sami McLaurin: Sami Pooley: Sara Riou: Katelyn Berriman