AGM Notification & Nomination for Board – Softball WA
Notice of Annual General Meeting
I hereby give notice of the Softball Western Australia Inc. Annual General Meeting in accordance with Part IV of the Softball Western Australia Constitution to be held on:Sunday, 14 November 2021
Commencing at 2pm, followed by Networking drinks and light refreshments

at the Mirrabooka International Softball Stadium
38 Ashbury Crescent, Mirrabooka

Notices of Motion for the AGM
In accordance with clause 19 of the Softball Western Australia Inc. Constitution, all affiliated bodies shall be entitled to submit notices of motion. All notices for inclusion as special business must be submitted in writing and will be accepted not less than 30 days prior to the Annual General Meeting. Therefore, Softball WA will not receive any further notices of motion after 5pm, Thursday 14 October 2021.
All affiliated bodies will receive notification of all notices of motion from the

Softball WA Office by 5pm on Friday 22 October 2021.

Nomination for Board of Directors
Softball Western Australia Inc. is seeking nominations for its Board of Directors. Currently, three (3) vacant positions are available at the upcoming AGM. In accordance with clause 26 of the Softball Western Australia Inc. Constitution, Board Members' terms will be for a two (2) year period from election at the Annual General Meeting. Applicants are encouraged to read the Duty Statement.

Process for Nomination
Softball Western Australia Inc. values a culture of inclusion and gender diversity within the Association. Interested parties are required to complete a Board Nomination Form. In accordance with clause 27 of the Softball Western Australia Inc. Constitution, nominees must have two Members of the Association endorse their nomination. Members are classified in several categories as outlined in clause 8 of the Softball Western Australia Inc. Constitution.
Furthermore, nominees are asked to detail their relevant skills and experience (e.g. Individual Profile, CV, Resume), this information will be circulated to all Softball WA Members prior to the AGM in order for Members to make an informed decision. Should Softball WA receive more nominations than the three (3) vacant positions, an online voting process will be conducted prior to the Annual General Meeting.
Nomination form must be completed and returned to the Softball Western Australia office by 5pm Thursday 14 October 2021. Nomination forms can be handed into the office directly or emailed to ceo@softballwa.org.au.

Voting
Only affiliated bodies (Associations and Clubs) eligible to vote (as per the Softball WA Constitution) and represented by a delegate, shall be entitled to one vote.  The Elections shall be by ballot and on papers prepared by the Softball Western Australia Inc. in accordance with instructions issued (as per the Softball WA Constitution). As previously implemented, should a poll be required; this will be undertaken online to enable regional affiliates the adequate opportunity to participate and streamline the overall voting process. Subsequently, nominees are encouraged to supply suitable information for members eligible to vote
to make an informed decision.

Business of Annual General Meeting
In accordance with clause 18 of the Softball Western Australia Inc. Constitution, a number of business items are required to be considered and transacted at the Annual General Meeting. As such, an Agenda will be prepared and provided by 5pm Friday 22 October 2021. This documentation will include nominations

for the Board of Directors.
If you have any queries regarding the Annual General Meeting or nominations for the Board of Directors, please contact the Softball Western Australia
office on 6181 3900.

Other Information
Softball WA will provide an overview of the previous financial year and the outlook for the current financial year.

Kristy Bryan-Smith
Chief Executive Officer
PLAYERS WANTED
Don't let the kids have all the fun! Carine Softball Division is chasing new players for the summer season 2021-2022
The division caters for all ages including men and women's vets.
Teeballers can play softball too as games are played Friday night under lights at Mirrabooka U12 and U14 age groups.
(We are awaiting the announcement of Under 12 age group this grade will be dependent on the clubs nominating enough teams for a competition)
U12 and U14 can accommodate up to 4 boys per team.
Teeball parents are welcome to join our division, catering from extremely social to elite, great opportunity to make new lifelong friends
Games are played at Mirrabooka Saturday afternoon with the occasional Wednesday or Friday night.
Male and female veteran sides games played Tuesday night at Mirrabooka.
Pre-Season:
Birallee cnr Shaw Rd and Beatrice St Innaloo
August 15th and 22nd
Juniors 9:30am to 11:30am
Seniors 11:30am to 1:00pm
Please bring your glove.
More information: softballregistrar@carinecats.com.au
Teeball-to-Softball Transition Info
Open the below flyer to see information about transitioning from Teeball to Softball.
2019/2020 Season Awards
As we are all aware we were unable to do our presentation night. I believe you would all have had online presentations as a team.
I would like to congratulate all recipients.
Lorraine Parkinson has all the trophies and grand final medallions, we will endeavour to get those to you all in the not too distant future
Margaret Bailey – 75 years young, still playing
An inspiration and true 'legend'.
We can all only hope we can still take the field at 75 years young!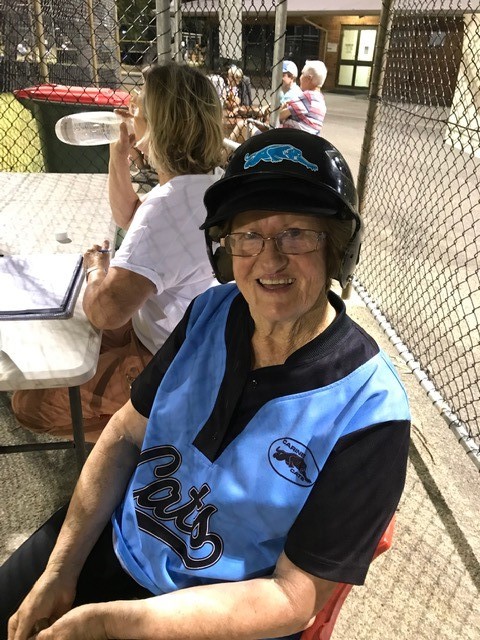 SEASON 2020/21
Hi everyone and welcome back to softball for the coming season.
Registration for the upcoming softball season is to be completed online.  To access the portal for registration is via https://softball.carinecats.com.au/register/
Fee payment by credit card will need to be done at the same time.
Kidsport is available for registration fees only.  Those players who wish to pay by cash/cheque, set up a payment plan or who require adjusted fees (i.e.FIFO workers) are to contact Cheryl Poustie, Softball Registrar directly on 0412 883 194 or 9447 4914 or by email softballregistrar@carinecats.com.au directly regarding payment of fees.
You can still register and update your details on line and an initial payment of $60 will need to be paid to confirm your place in a team.
There will be NO Public Registration Day this year.  If you experience issues with online registration please contact Registrar (Cheryl Poustie) by email or on 0412 883 194 or on 9447 4914 from August 2019 onwards.
Fees for the 2019/2020 Summer Competition are:
Juniors – U14's – $165
Juniors – U16's & U18's – $200
Seniors (18 years and over) – $295
Premier League only – $320
Summer competition and Premier League – $395
Your fees include individual registration, public liability insurance and limited player injury insurance with Softball WA, equipment, junior uniform playing top (junior teams only),  ground and team fees and end of season trophies.  At the time of writing Softball WA are unable to advise of any increase in player insurance or team fees.
For players wishing to play in both a senior and junior team there will be a levy payable for the second team.
For junior players wishing to play seniors only the senior fee will apply. Please advise Kerry Rispoli or Cheryl Poustie in writing of this request.  Juniors playing across a junior and senior team will be advised of the levy for the senior team once they have been allocated to a senior team.
The Club no longer covers plate umpiring costs and the onus falls back on the teams to take up a small collection from the players.  Each team to appoint their own base umpires, PSL umpires pool endeavors to cover all senior plates. Junior teams unable to cover plates Hank is happy to cover – $40 per plate, pending on the fixtures and the amount of teams in each age group Hank will try to cover as many plates on the clubs behalf.
COACHES
All persons aspiring to coach a team from 14's to Seniors this season are to provide, in writing, an "Expression of Interest" to coach to Kerry Rispoli or Cheryl Poustie outlining qualification, previous teams coached and possible grades interested in coaching this season.  "Expressions of Interest" will be referred to both the Grading Committee and Softball Committee for consideration and ratification.
Any coaches wishing to assist with pre-season please contact either Donna Powell, Kerry Rispoli or Cheryl Poustie
PLATE UMPIRE POOL
PSL (Perth Softball League) have asked for plate umpires for the umpires pool, if you are new to softball umpiring but would like to be a part of this plate umpires receive $40 per game, excellent training is available. softballchairperson@carinecats.com.au 0408484662
KIDSPORT initiative funded by Department of Sport & Recreation makes it possible for WA children to participate in community sport and recreation.  KidSport will allow eligible youth 5 – 18 years to apply for financial assistance (to a maximum of $200 per annum) to contribute towards Club fees .  The fees go directly to the registered KidSport Club participating in the project through their local government.  Application voucher can be found online under KidSport website or contact either Kerry Rispoli or Registrar Cheryl Poustie.
A reminder for players, parents and guardians (of players under the age of 18 years) to tick the box on the registration form regarding Image Consent before you can move forward..
PRE-SEASON GRADING/TRAINING
Pre-season training and grading is COMPULSORY for Juniors and dates are as follows:
As Winter Softball play games at Birralee on Sundays the following dates have been set aside for pre-season training.  Team Nominations for the summer season are to be lodged by early September 2019. Additional training sessions will be advised later.
JUNIORS:  For U14's, U16's and U18 players – 3 sessions on Saturday 17, 24 and 31 August 2019 from 11.30am to 12.300pm at Birralee Upper Oval (cnr Beatrice Street and Shaw Road, Innaloo).  Extra sessions if required will be advised at a later date and will depend on ground availability.
SENIORS (other than Premier League Players):   Possible pre-season training/meeting to discuss teams would be Sunday 25 August 2019 at Birralee at 10am – 12 noon. 
If you are unable to attend please advise Registrar, Cheryl Poustie, 0412 883 194, 9447 4914 or Kerry Rispoli on 9448 4662, 0408 484 662.
Please wear appropriate sportswear (especially if cold and wet) and bring a water bottle, hat, jacket and your GLOVE.
Any grading requests are to be in writing to Softballregistrar@carinecats.com.au and will be referred to the Grading Committee for consideration and will be dependent on individual circumstances.
 ALLOCATION EVENING – TUESDAY 10 SEPTEMBER 2019
At Carine satellite ground – Birralee, Upper Oval, cnr Beatrice Street & Shaw Road, Innaloo
JUNIORS:       6.30pm sharp                           SENIORS:       7.30pm
 No uniform pieces will be sold on this night.  Uniform Day for purchase of uniform pieces will be Saturday 5 October 2019 at Birralee, 10:00am to 12.30pm and on training nights up to the season start.
 ORIENTATION EVENING – for coaches, managers, scorers
Tuesday 17 September 2019 at 7.30pm at Birralee, Upper Oval, cnr Beatrice Street & Shaw Road, Innaloo.  Coaches, managers and scorers are requested to attend so that specific information on the upcoming season can be distributed and explained.
Specialised sessions in pitching, catching will be announced in due course.  Scoring Clinic will also be scheduled prior to season commencement for new scorers and those wishing to brush up on their skills, unless Softball WA runs a clinic before the season commences.  Please advise either Kerry Rispoli or Cheryl Poustie if you are interested in these courses
PREMIER LEAGUE PLAYERS
This season players aspiring to play Premier League are to provide, in writing, an "Expression of Interest" to this affect.  A compulsory Premier League pre-season grading session will be organized to which all players wishing to play Premier League are to attend.  The time date and place for this session will be advised at a later date.
TRAINING GROUNDS
Training grounds will be at Birralee Oval and teams allocated on a 'first come' basis.
Carine Open Space will still be available for teams to train – will need to liase with T-ball regarding availability.  The Club would prefer more utilization of our satellite ground Birralee.  Training grounds under lights at Carine Open Space are expensive, it was noted that these timeslots were booked but not used very much.
SOFTBALL FUNDRAISING
As part of our fundraising activities, softball man the canteen for t-ball each Saturday morning.  We have tried a roster arrangement in the past whereby each team provides a person to assist with canteen duties but this has proved unsuccessful. Subsequently, each team will be required to pay a $100 'Canteen levy' so that the Softball Committee can pay people to take on this task.  More information will be provided to teams in due course.
SUPPORT CREW
The Softball Committee would welcome new members to join a core group of hardworking people and the 'more hands helping out the lighter the load'.  We would welcome your support and input to the Committee.  The Softball Committee meets on the second Monday of the month at 7.30pm.
UNIFORMS
Lycra skins (socks) $20.00 sizes 2-8 or 7-11
Cap $20.00
Visor $15.00
Club Beanies Acrylic $15.00 Ribbed style $17.50
Shorts $40.00
Singlets $50.00
Hoodies $50.00 personalising additional $10.00
Optional Club Hoodies – Pullover or zip in black or powder blue with embroidered club logo.
Mens and Ladies cut – Supporters Shirts $45.00
Supporters Jackets $55.00
Mens & Ladies cut supporter or training shirts Grey: Black or Sky Blue $25.00
Club Wind breaker (showerproof) jackets $65.00.
Kitten Club tee shirts available sizes 6 months to 12 years – buy one for your teddy mascot or better still for your little ones $15.00
Club Playing Shorts and Club singlet may be purchased if the consensus of the team to wear shorts and singlet rather than the Club provided uniform.
Uniform pieces can be ordered at pre-season training sessions; sales and orders on Allocation Night also available.
Any uniform queries please contact Kerry Rispoli on 9448 4662 or 0408 484 662
SEMSA – A Grade Premiers 2019 are… Carine Cats!!
This year the Division 1 softball team at Carine decided that they would leave the Perth softball league competition and head out to Parkwood and take on the much stronger league at SEMSA… it's been regarded as the place to be in the "softball world" here in Perth. The girls took a few weeks to find their feet, but hung in there all season to finish 3rd after the regular season and embark upon their first final series in their first season, which was an achievement in itself.
They knocked off Wildcats in their elimination final, and then defeated the all conquering Cougars (last years premiers and this years minor premiers), then they came up against the Cobras, who had strong team with a lot of experience, and the girls were up against it, and being the new kids on the block, it wasn't just the Cobras they were up against.

The cats came out all guns blazing, with young Ash pitching superbly, and the girls batting well, we held a 5 run lead going into the bottom of the 7th. (Last inning for peeps who don't know) and the cobras got 3 runs in very quickly and the big fella, along with the rest of the Cats supporters were going into panic mode…

But it was the cool head of Donna Powell who made the final crucial clean piece of fielding, got the throw off to her daughter Luci Powell at first base, and the rest they say is history…
The cats got up 5 – 3, in a game lasting 2 hours.
Really enjoyed watching Amber Bloxsome and the girls this year.
We came, we took on the World and we conquered…

Carine Cats, A grade premiers 2019!!
Congratulations
Under 17 WA Softball Team
6-12 January 2018 – Blacktown, NSW
Amber Bloxsome
Ashlee Harwood
Gemma Hooker
Olivia Kuzminksi
Gemima Rahman
Softball back in the Olympics
Good News!
Tokyo, here we come! Softball back in the Olympics
Winners are Grinners
Carine Cats wins Premier League. Congratulations to Coaches Clint and Scott and all our players.
A close game is a good game.