Teeball-to-Softball Transition Info
Open the below flyer to see information about transitioning from Teeball to Softball.
PLAYERS WANTED
We are currently looking for any interested parties in joing Carine Cats for the upcoming season of softball.
Spread the word, tell your friends and family.
It's a great way to get out there and stay fit and have fun!
Invitation to eligible T-ball players
Softball Division
Invitation to eligible T-ball players to join
Carine Junior Softball Teams
Come and have a run with the Junior players at Softball Pre Season  to experience what junior softball is all about with our senior coaches and players in the Softball Division.
Pre season sessions will be held on Saturday 15, 22, 29 August and 5 September 2020 from 2pm to 3.30pm at softball's satellite ground, Birralee Oval, cnr Shaw Avenue and Beatrice Street, Innaloo
Carine U14 Teams play on Friday night as a 'curtain raiser' to the Premier League Games at 7pm.  This also lets you play T-ball on Saturdays , if you are still eligible.
Ages for U14, U16 and U18 – players are to be under the relevant age group as at 31 December in the season they will be playing.  ie  U14 is players 13 years of age and younger.  U16 is players 15 years and younger, etc.
Please contact Registrar, Cheryl Poustie, on 0412 883 194 or Softball Chairperson, Kerry Rispoli on 0408 484 662 if you will be able to join us at Birralee, or would like any additional information.
You can register for softball online via www.carinecats.com.au and clicking on Softball.
See you on the Diamond soon
2019/2020 Season Awards
As we are all aware we were unable to do our presentation night. I believe you would all have had online presentations as a team.
I would like to congratulate all recipients.
Lorraine Parkinson has all the trophies and grand final medallions, we will endeavour to get those to you all in the not too distant future
Softball Division Windup Sun 29th March
To be held @ Kingsway Football and Sporting Club
BYO nibblies, drinks at bar prices
Presentation of player milestone and team awards
Lets make it a fun afternoon
More details @ https://www.facebook.com/events/288306795466906/
New players wanted for Men's Winter Ball
Chasing a few extra players for men's winter softball
Season commences in April home and away Sunday 1pm or 3pm timeslot out of our home ground Birralee, there may include the occasional 11am game too
Cnr Shaw Road and Beatrice St Innaloo
Training Wednesday night at Birralee 6:30pm -8pm for the next few weeks, moving to Thursday night once summer comp finishes
Players father and son or siblings 15+ welcome, keep fit over winter in these amazing social sides
Contact Russell Berriman or softballchairperson@carinecats.com.au
We welcome plate or base umpires, scorers if you are free and would like to to be part or this great club
Tabitha Rewell in the U16 International Friendship Series
Delighted to advise ex Cats tee baller now softball Tabitha Rewell has been selected in the U16 Australian team
Carine Cats players in the WBSC U18 Women's World Cup
Congratulations to the following Carine Cats players who have made the squad:
Ashlee Harwood
Olivia Kuzminski
Softball Australia are pleased to announce the U18 Women's team to compete at the upcoming WBSC U18 Women's World Cup to be held in Lima, Peru from 23 – 30 August, 2020.
The team has been selected following the U18 Women's National Championship held at Blacktown International Sportspark earlier in January.
A number of players have been listed as reserves and will be invited to compete in the Canada Cup as part of the Aussie Diamonds Pathway Program.
Newly appointed Junior Spirit Head Coach Chantelle 'CJ' James will lead the team and be joined by a host of qualified support staff ahead of the World Cup.
James and her staff will aim to steer the Junior Spirit to a sixth medal in international competition to add to Australia's swag of five bronze medals.
A training camp is scheduled to take place at the Australian Institute of Sport from 14-16 February.
The final team, with reserve list, is listed below:
Final Team
Neve Adams SA
Ryleigh Arnott NSW
Brooke Clappinson WA
Mackayla Denney WA
Amelia Fidge SA
Amaya Foxover Qld
Mia Gilmore NSW
Ashlee Harwood WA
Jessie Keech SA
Hirari Kurihara Qld
Olivia Kuzminski WA
Stephanie Lowe Qld
Aislinn Morris WA
Charli Orsini NSW
Jessica Rohde Qld
Karah Schultz SA
Reserves
Zali Adams SA
Madi Baker NSW
Indigo Beck De Silva SA
Alyssa Charter-Smith NSW*
Jayde Jensen NSW
Sophie Lawrence Qld
Isabella Lorenzo NSW
Alyssa Mighell NSW
Aroha Munroe SA
Mackenzie Peebles Qld
Paige Smith WA
Zali Summers Qld
Willow Swinbourn WA
Caitlin Wilde NSW
*Alyssa represented Softball Victoria at the 2020 U18 Women's National Championship
Margaret Bailey – 75 years young, still playing
An inspiration and true 'legend'.
We can all only hope we can still take the field at 75 years young!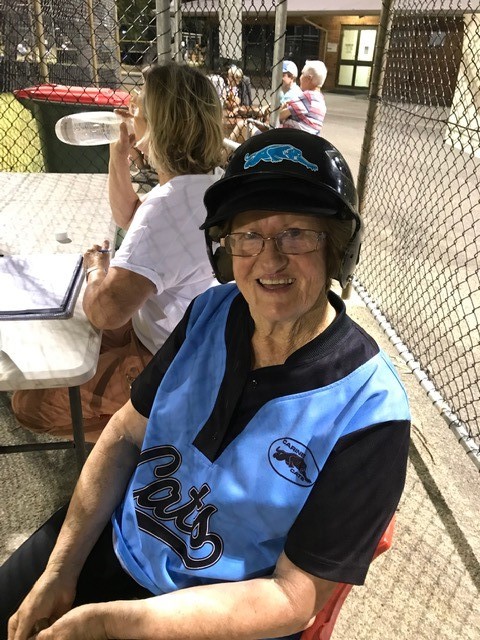 "FLAMES" West Australian Open Womens Carine Cats Representatives
How exciting!
Get down and support our senior players representing WA in the Gilleys Shield at Mirrabooka, January 2020
Liv Kuzminski Sara Riou and Gemma Hooker
We are also reclaiming Amber Johnson, Amber arrived in WA as an import from the USA 2010
Once a Catter always a Catter, wishing you every success ladies